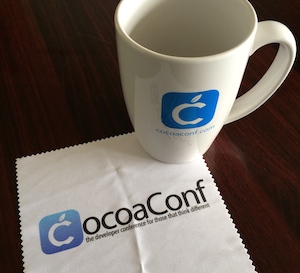 Cool stuff from CocoaConf.
One purpose of a conference is to help you to spot trends while there's still time to reap the benefits of being an early adopter.
~Brian Marick at SCNA 2013
Early adopters on Apple's Mac OS X and iOS platforms flock to CocoaConf, a multi-city conference for developers. Tickets are slightly easier to get than WWDC; CocoaConf consistently sells out.
CocoaConf's presenters are practicing developers, actively building real software every day. They come to CocoaConf to share their experiences in a wonderful upward-spiral of technical learning. Here are a few highlights from the latest CocoaConf, held March 7-8 near Chicago.