Madison+ Ruby and Parallella (with Video)
22 Aug 2015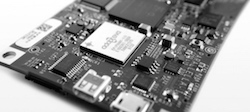 Parallella is a single-board computer roughly the size of a credit card or Raspberry Pi. It runs Linux. It has 18 processor cores, two ARM and sixteen RISC. You can buy this device online for about $150.00.
The Madison+ Ruby organizers invited me to present Parallella at the conference earlier today. Video and slides appear below.
Thank You Madison+ Ruby
Madison+ Ruby has delivered a great experience for five years. Sadly, 2015 marks the last year for the conference. They will be missed.
Thank you Jim and Jen Remsik for a great conference. I wish you well with everything you choose to do in coming years.
More on Parallella
Future computers will achieve faster performance through parallelism. If you want to learn more about this trend, consider exploring Parallella for yourself. The Parallella Quick Start Guide might be useful.
Source code and schematics for Parallella can be found on GitHub (Parallella | Adapteva).