New Chapter in Los Angeles
03 Feb 2018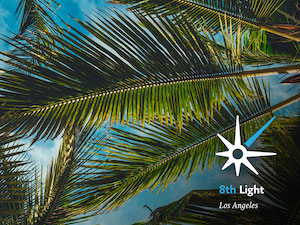 Update: I moved to Los Angeles this week.
Monday (05Feb2018) marks my first day as Director of the 8th Light office in Los Angeles. Special thanks to Margaret Pagel, our VP of Marketing & Sales, for her mentorship and for approaching me with the idea. Thanks also to my predecessor, Dave Moore, for launching the LA office and passing a well-crafted baton.
Our 8th Light team delivered outstanding results in 2017, serving clients in health care, finance, insurance, real estate, travel, and high-speed hydrofoil yacht racing. We're on track to do more in 2018.
I will miss Chicago. But I'm excited about LA!